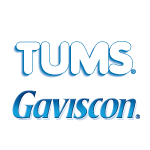 GSK: Tums Gaviscon
There is one main characteristic that consumers truly want from a heartburn/stomach medicine – fast relief. Other aspects like taste and form of the medication are irrelevant if it does not work fast, as the users just want to eliminate the pain and discomfort as immediately as possible.
Leveraging this simple but important factor, Spider created the "On the Scene in Seconds" campaign for Tums and Gaviscon. All creative focused on telling consumers that they could almost instantly relieve heartburn and upset stomach with the products. This was communicated in and out of store, while offering incentives to drive trial and purchase.
Pre-shop activations included digital ads, online group coupons, direct mail, national FSI's and a micro site. To speak to consumers in-store, shelf media and special displays put the message front and centre, while 'take one' brochures provided key information about the products and reinforced the message with a piece they could keep with them.
Partnering with Shoppers Drug Mart, gift cards offered secondary incentive to interact with the brands. Lastly, sampling at Wal-Mart gave shoppers the chance to experience the benefits of Tums and Gaviscon first hand.