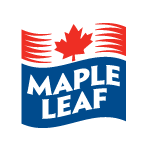 Maple Leaf: Protinis Launch
In 2014, Maple Leaf launched their new line of on-the-go snacks; Protinis. The products are made to provide busy people with their serving of 'full protein', found only in meat, in a way that fits into their hectic daily schedules. Whether it's work, school, sports or any activity that has people constantly on the move, Protinis are designed to fit the routine of busy, busy people and give them the protein and energy they need. This is what Maple Leaf wanted to communicate clearly during the launch campaign.
Spider developed an in-store Shopper Marketing campaign that showed people 'what's new in protein'. The campaign showcased the products and their benefits, and also included a coupon to drive trial. This was backed by a consumer booklet that contained more detailed information about the new, convenient snacks and more extensive content regarding the benefits of protein in one's diet.
Leveraging the fact that a large portion of Protinis' targeted consumers would be Moms buying them for their kids' lunches, Spider worked with the Yummy Mummy Club – a highly followed website of 'mom-bloggers' – to run a national bog tour. These bloggers wrote about Protinis and spread the word to all of the mothers reading their posts.
To add the key element of actually getting the snacks into people's hands, product samples were given away at Union Station in Toronto, providing busy commuters with a quick and convenient snack to keep them going. This gave them a chance to experience, first-hand, the benefits the products could yield for them and their families.