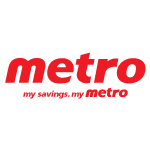 Metro: Do the Math
Metro was looking to take advantage of the change in shopper choices that comes with the August-September back to school period – particularly regarding lunch and dinner items. The objective was to bring consumers into Metro for all of their back to school food shopping as well as give them another engaging incentive to keep coming back.
Leveraging the back to school feel, Spider created the 'Do the Math' contest in which customers could log onto Facebook or the Metro website and enter using the number found on their Metro receipt. The grand prize winner would get $1,000 for themselves and $1,000 dollars for a local school of their choice.
Selected items throughout the store were also marked with the program's theme and offered at a special sale price. This reinforced the 'Do the Math' theme, as customers could add up all of the savings on these products. The contest and special price offers were backed by flyers/inserts, in-store POS, Facebook ads, a branded website, Momstown events and vendor specific offers.