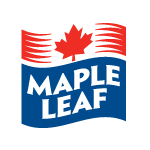 Maple Leaf Foods: Savour the Sizzle
When Maple Leaf was looking to push sales of their many sub-brands and varieties of bacon in Sobeys stores, they assigned Spider the task of creating a new and engaging way to do so. Alongside the special price point, they were looking for a solution that would encourage more consumers to bring home the bacon more often and in larger quantities.
The approach Spider took was to create a full-out meal solutions program for breakfast, lunch, snack and dinner, revolving around bacon. Playing off the mouth-watering sound that everyone associates to delicious bacon, the theme 'Savour the Sizzle' was created for all displays and tribute ads, and the sub-head 'Make it with Bacon' told consumers what to do – make more meals with bacon.
Header cards and bunker displays put Maple Leaf bacon products in front of Sobeys customers and standees providing them with free recipe cards were the driving force behind increasing bacon purchases. Each card featured a unique way to prepare bacon that they had likely never tried before. Many of these recipes were for dinners, lunches and snacks in order to demonstrate that it can be used in any meal throughout the day.
Shelf media was also utilized to promote Maple Leaf products in the meat section of stores. To reach consumers who were not yet in-store, tribute ads were run in Sobeys flyers featuring the Maple Leaf, Schneiders, Natural Selections and Country Naturals Bacon products.